Hearing Aid Manufacturers
Here at Midwest Audiology, we offer devices from the following leading manufacturers: Starkey, ReSound, Oticon, Signia, Phonak, Widex.
Each brand has wide range of models to suit any of your lifestyle or hearing needs. Any of your hearing needs will be matched with the latest in hearing aid technology and customized to fit seamlessly into your life.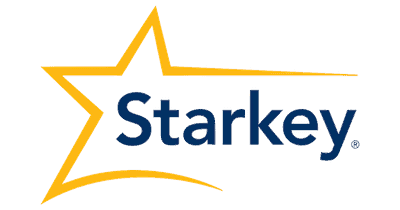 Starkey is an American innovator in smartphone compatible Made for iPhone hearing aids. Their devices are small, sophisticated and technological advances that have virtually eliminated feedback and other issues.
Starkey's most popular hearing aids are the Muse iQ and Halo iQ. Both Muse and Halo hearing aids offer users advanced features and wireless hearing solutions for many hearing needs. Acuity™ Directionality allows you to hear clearly in many noisy environments. Particularly, Speech Shift technology enables users to understand speech in a wide variety of environments with conflicting sound. Wireless streaming is a particular benefit of Muse and Halo hearing aids. Muse is compatible with cell phones, television, music, and other media with SurfLink® Mobile 2, SurfLink Mini Mobile and other SurfLink accessories.
The Halo iQ line of hearing aids also offers functionality improved by coordination with your smartphone. Patented technology in the Halo line replicates high-frequency sounds in lower frequencies where they're easier to hear and understand. Direct streaming of phone calls from your iPhone to your hearing aids enables clear and comfortable conversations without feedback or the need to unnecessarily augment the volume of the earpiece. Streaming music directly to your hearing aids allows a more immersive and impressive listening experience. The SoundSpace tool on the TruLink app lets you make minor adjustments to sound quality to suit your particular preferences. This app helps your iPhone remember your preferred settings, enabling you to dial in the precise range of sounds that will be both the most comfortable and clear for your hearing profile. One of the truly innovative technologies available in the Halo iQ is geotagging common locations, automatically switching modes when the GPS feature in your iPhone detects you are in a tagged location.
---


ReSound is a Danish hearing aid manufacturer that is committed to developing hearing solutions to help people rediscover hearing so they can live rich, active, and fulfilling lives. Their innovations have produced several industry firsts, with features such as Wide Dynamic Range Compression and Digital Feedback Suppression. Their latest innovation is the LiNX Quattro, the fourth-generation of their ground-breaking smartphone compatible hearing aid.
LiNX Quattro
LiNX Quattro is equipped with an updated processing platform and new features. Surround Sound, New Binaural Directionality, and Spatial Sense all support the brain's natural ability to process sound, recognize speech, and help situate users within their surroundings by simulating normal binaural hearing. With Wide Dynamic Range Compression and Digital Feedback Suppression, users have a clearer picture of sound, without the distractions of feedback buzzing and whistling.
As a Made for iPhone hearing aid, the LiNX Quattro offers access to finer sounds and opens up accessibility for users. By connecting to the iPhone (as well as other personal electronic devices), users are able to stream phone calls, FaceTime, music, and media directly from their devices to their hearing aids, with clear sound quality. With a geo-tagging feature, the LiNX Quattro utilizes GPS from the iPhone to save locations and automatically re-adjusting to wearer preferences as they return to those places. As a result, users have a seamless listening experience.
Contact Us


Oticon has developed their hearing aids with the idea of complete sound processing. Called "BrainHearing," the technology mimics how the brain processes sound. Combined with state-of-the-art technology, the OPN (pronounced "open") has incredible sound processing options that gives users great access to all sounds in their environment.
Oticon OPN
Powered by the Velox Processing Platform, OPN users have reported 20% reduction in listening effort in noisy environments and a 20% greater capacity to remember in challenging noise situations. Velox employs an "open sound solution," which allows users to experience a full soundscape, even in the most challenging sound environments. Thus, OPN users are empowered to focus on the sounds they want to hear, providing them with significant cognitive benefits.
OPN builds upon the groundbreaking BrainHearing Technology introduced by Oticon. OPN offers features such as the OpenSound Navigator, which scans 360-degrees of the listening environment 100x per second. Velox then analyzes and balances these sounds for an accurate sound picture. OPN is also the world's first hearing aid to connect to the Internet, using the service If This Then That (IFTTT.com). With OPN, users have access to archived sounds such as doorbells, baby monitors, alarms, thermostats, security systems – most sounds experienced in daily life.
Contact Us
---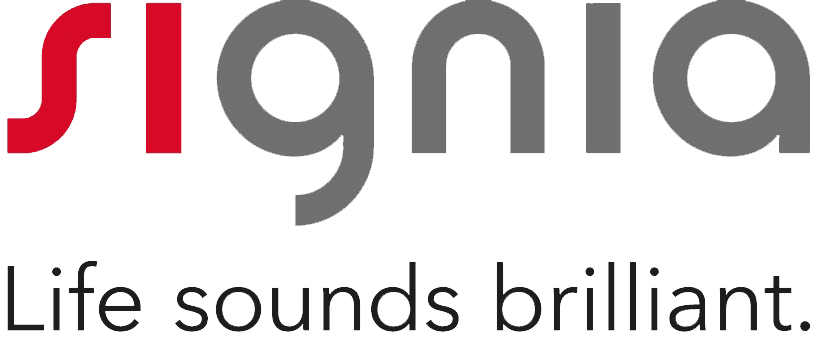 Signia is one of the world's oldest hearing aid manufacturers. They were one of the first to introduce the behind-the-ear and in-the-ear. Signia offers sophisticated technology with the 7nx Pure Charge & Go, a hearing aid that has a quick charging time and long battery life for folks who are "on the go."
Signia Silk Nx
One of the newest Signia models is the Signia Silk Nx, which is very small and fits inside the ear canal. Soft, compressible silicone sleeves are around the hearing aids and when they are inserted in the ear, they conform to the ear canal and can be worn immediately. The devices are color coded, making them easy to use for first time users. The Silk model picks up the sound inside the ear canal and processes it from ear-to-ear by a wireless link for a natural sound. This model, as most of the other Signia models, has built-in Tinnitus therapy options. Signia Silk models can be controlled by a phone app or a small pocket remote.
Pure Charge & Go Nx
Another popular model is Signia's Pure Charge & Go Nx. These hearing aids come with an inductive charger and long-lasting batteries. Pure Charge & Go nx automatically charges and turn on when taken off the charger.  The Pure line includes the 10 NX, the 312 Nx and the Pure 13 NX. All have noise suppression technology for conversational clarity. The Insio Nx is custom-fitted for inside your ear and programmed for your degree of hearing loss.
---


Founded in Switzerland in 1947, Phonak has the mission to reconnect people to their lives and loved ones with advanced hearing technology. Phonak is known as an innovative manufacturer that prides itself on making hearing aids that users find as simple to use as eye glasses. Featuring wireless connectivity, the Audeo B Direct 90 is a rechargeable hearing aid with quick charging and flexibility for active hearing aid users.
Audeo B Direct adapts automatically to whatever sound environment users find themselves in, providing a seamless listening experience. In response to customer feedback, Phonak has designed Audeo B Direct as a rechargeable hearing aid. Audeo B Direct provides 24 hours of hearing on a single charge, making it the longest lasting rechargeable hearing aid on the market. For those on the run, a 30-minute charge provides six hours of listening. When streaming wirelessly with a smartphone, Audeo B Direct provides users with 80 minutes of uninterrupted listening. Audeo B Direct is equipped with a lithium-ion battery, which offers 40% more power than other rechargeable battery options.
The Belong Platform
Powered by the Belong Platform, Audeo B Direct provides users improved speech understanding in noise, even with the capability to zoom in on a single voice. In quieter environments, Audeo B-R gives users improvement in soft-speech understanding. Audeo B Direct is equipped with popular Phonak features such as AutoSense OS and SoundRecover, both of which provide users with a more flexible and effortless listening experience. AutoSense OS analyzes sound in the wearer's environment to balance and adjust sound for better listening. Audeo B Direct is a fully customizable hearing aid, designed to treat a wide range of degrees of hearing loss.  
---


Known for their trademark "Widex Sound," the manufacturer Widex provides users with a rich listening experience. A family owned company, Widex is one of the world's largest hearing aid manufacturers and an innovator in digital hearing aid technology. From background noise to a whisper, Widex hearing aids are designed to provide a natural hearing experience. Their hearing aids help you hear soft sounds and make sure loud sounds are comfortable.
Widex offers hearing aids for inside the ear as well as behind the ear. Widex offers rechargeable hearing aid models with superior streaming capabilities, as well as low power consumption, which means you can be confident that your hearing aids will be powered. Widex also offers a custom fitted in-ear model that is favored by musicians, as well as an app for tinnitus management that can be used with or without hearing amplification.
Widex Evoke
Their latest model, the Evoke Fusion, feature wireless connectivity and geotagging. Evoke remembers adjustments you made in certain places and the automatically makes them again when you go back to those places. Evoke is the world's first "smart" hearing aid. It uses real-life situations as data collection sites and then uses that information to create a better listening experience. For example, it knows you process sound differently at a meeting in a large conference room versus the forest. Using a phone app with SoundSense, it creates sound profiles for different areas and different situations. It then lets users pick a sound profile.  Evoke also has a built-in sound controller that lets you adjust sound to be able to hear what is going on in front of you, while minimizing environmental sounds.