Hearing aid manufacturers have embraced technology and utilized it to give hearing aid wearers a remarkable listening experience.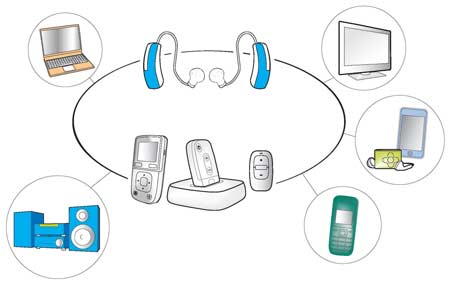 Newer hearing aid models are equipped with advanced speech recognition features to help you access conversations with ease and to filter out background noise in loud environments.  Hearing aids with Bluetooth features now offer the ability to interface with other technology such as your smartphone, your television, or your computer.
New developments in hearing aid technology means that there are more reliable energy options, such as rechargeable lithium ion batteries, which are great for people on the go.  In terms of user accessibility, many hearing aid models can be controlled with a few touches on a phone app or with tiny remotes. There are models with manual controls and a variety of styles to fit discreetly behind the ear, as well.
After a comprehensive exam and consultation, our team at Midwest Audiology will help you find remarkable listening devices suited to your lifestyle. We'll work with you to ensure that you are familiar with your devices, from handling the available technology and accessing all of the excellent features to help you experience life and listening to the fullest.

Wireless Connectivity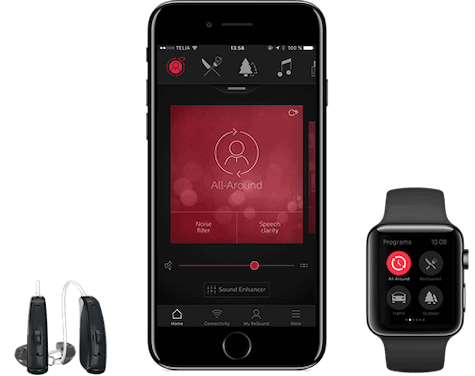 There's no denying that wireless technology is now a significant part of our lives. Most of our electronic devices are Bluetooth compatible and allow us to stream media wirelessly to our ears. Hearing aid manufacturers have kept up with the quickly-evolving advancements in wireless technology. Most major brands now offer a smartphone compatible hearing aid, which either uses Bluetooth or a secondary device to stream music, media, phone calls, and other audio from a smartphone directly to a hearing aid.
Additionally, manufacturers have created downloadable apps that provide users access to make adjustments to their listening experiences. These apps have user-friendly elements that allow users to change the volume or switch between program features to enhance their listening experiences. Some manufacturers offer a geo-tagging function, which archives user preferences by location, using the smartphone's GPS and makes automatic adjustments when users return to saved locations. This provides a truly natural and seamless listening experience.  
Notable wireless, smartphone compatible hearing aids include the Starkey Halo iQ and the LiNX Quattro.
Learn more about hearing aid manufacturers
Rechargeable Hearing Aids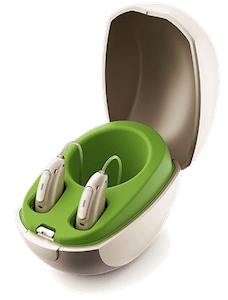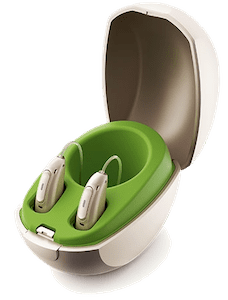 Until recently, the majority of hearing aids were powered by traditional zinc air batteries, which required frequent replacement when paired with powerful new hearing aid features, such as wireless streaming. On a personal level, the use of traditional hearing aids required users to constantly check to make sure that their hearing aid batteries still had juice, while remembering to carry a spare set of batteries just in case. On a grander scale, the waste of used hearing aid batteries posed an environmental hazard with the potential risk of seeping into the earth in landfills.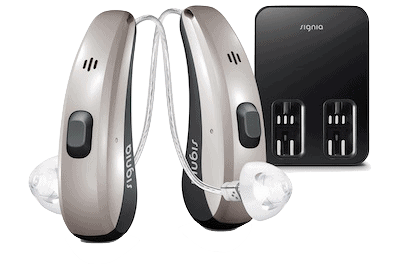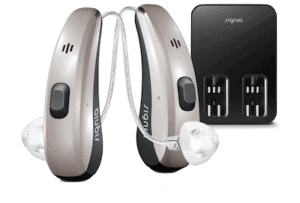 The innovation of rechargeable hearing aids has changed the game. While rechargeable hearing aid technology has been available in some form for the past decade, it is now more sophisticated and user-friendly than ever before. Rechargeable hearing aids are now powered by lithium-ion batteries (like the ones that power your laptop and tablet), and replacement is required once every 4-5 years. More importantly, lithium-ion technology provides confidence for the user. With batteries that last a longer time span on a single charge, users could experience up to 24 hours of uninterrupted listening on a short overnight charge (7 to 8 hours).
Notable rechargeable hearing aids include the Phonak Audeo B Direct and the Signia Pure Charge & Go Nx.
Learn more about hearing aid manufacturers